"Save Big With Bicycle Discount Coupon Codes"
Installing A Bicycle Coaster Brake Rear Wheel
Loosely fasten the bicycle wheel in position. Put the small nut and bolt back into the brake arm and its holder strap. Do not tighten it yet. Note: There should be one or two washers on each side between the axle nut and the bicycle frame.
Check the chain tension while turning the bicycle's pedals. Bicycle sprockets are not perfectly round and so the chain tension will vary as they turn. The correct tension is a compromise. If there is periodic resistance as the pedals are turned, the chain is too tight and can damage the bearings. If the chain is too loose, (1/2" or more deflection) if may fall off, which is unsafe. By loosening the axle nuts, one at a time, you can walk the wheel back and forth to get the proper chain tension. When you are satisfied, make sure the nuts are tight and then tighten the little nut and bolt at the end of the bicycle brake arm.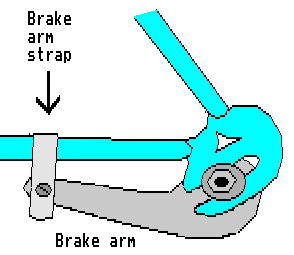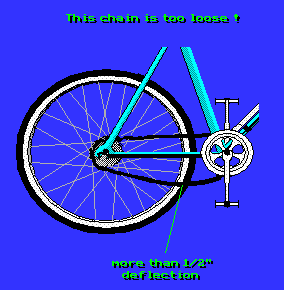 3 Things You Need To KnowBefore You Buy
Back - Installing Front Wheels
Next - Installing & Adjusting Three-Speed Wheels
Tell a Friend About BicycleWebSite
Please feel free to link your web pages to www.bicyclewebsite.com.
Copyright © 1991-2014, bikewebsite.com