Become a Wheel Smith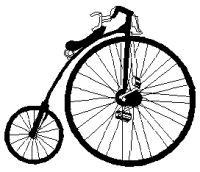 I have always thought that in a crowded market, you could do very well with a bicycle wheels-only service. Your job would be to align bike wheels, and replace bike's rims. You might also profit from tire and tube work, and occasional general bicycle repairs.
By becoming known as a wheelsmith, a specialist, you would get lots of work in your specific field. You would probably be able to operate out of a very small storefront, which means low rent and overheads. You could advertise very little. Let your reputation and specialty do that for you.
Many of your repairs could be done while customers wait. You might charge $8 or $10 for simple wheel alignments, up to $20 for severe wheel alignment work such as removing flat spots, and $5 to $8 for fixing flat tires. You'd make additional profit on rim, wheel, and tire and tube sales, and perhaps occasional forays into regular bike repair, such as derailleur tuning and brake adjustment.
If I were going to set up such a service, I would rent a small store in a good location, unless I was lucky enough to have the right facilities at home. I think six hundred square feet would be adequate. I would hope to spend my rent money more for a location which advertises itself, rather than extra space.
To work from your home, you would need:
* Adequate zoning to allow you to entertain a flow of customers.
* Ideally your home would be on a busy street, where you could put up a sign, or line up a lot of bikes to let people know you're there.
* Near a large enough metropolis to have enough customers to specialize.
I would set up a very comfortable waiting area, with magazines, and possibly snacks. I would have a sofa and a couple of easy chairs, or perhaps a counter with some barstools, so I could talk with customers as they watch me work. In a way, it would be like a barber or beauty shop atmosphere. I want customers to come back and bring their friends!
I would set up at least two identical working areas, so I could always interrupt a job in progress which is not in pressing need of completion with a job which the customer wants right away. I would allow for some overnight bike storage, but not as much as a conventional bicycle store needs.
I would also invest in general business liability insurance and a good alarm system so I could sleep easy at night.
I believe this kind of a business would be stable, easy to start and run, very low-stress, and would bring the proprietor a steady $40,000 to $60,000 annual income after expenses.
Tell a Friend About BikeWebSite
Please feel free to link your web pages to www.bikewebsite.com.
Copyright © 1991-2014, bikewebsite.com