Start a Mobile Service Business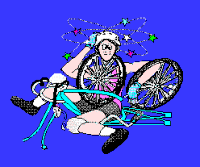 Imagine a mobile bicycle repair business in which you come to people's homes on your bicycle, and fix their bicycles. Better yet, don't imagine it - do it. If you have good knowledge of bicycle repair, this would be an easy business to start.
You need to set up your bicycle to carry some tools and inventory. In addition to a handful of hand tools, it would be nice to carry a portable bicycle stand. You'll want to carry a couple of spare inner tubes, some spokes, oil and grease, cables, and a dozen commonly replaced parts. You might also fold up a few common tires, and carry them also. And of course you'll need a good, but small tire pump. Everything I have mentioned can be fastened onto a regular bicycle, but a trailer would be an option which will allow you to carry a bigger inventory.
I see several specialties within this business. You can do emergency road service. If someone has had a flat tire or other condition which makes it impossible for them to ride home, they can phone you, and you'll come along and fix their bike for about one and half times what it would cost if they brought the bicycle to a store. If you offer emergency service at odd hours, or to distant locations, you could charge far more to those who are willing to pay for the convenience.
Another specialty would be at-home tune-ups in which the customers get to watch and learn.
The mobile bicycle service would be very useful to the people of your town. If you provide emergency service. the advantages are obvious. But if you come to homes for routine servicing, you save the customers two trips to the bicycle shop - one to bring the bike in, and another to pick it up. Furthermore, their bikes are up and running in an hour or two, rather than in a few days.
Some people in the mobile bike business use a car or truck to get to their clients more quickly and bring more equipment. It is quite possible to set up a full bicycle repair shop in any enclosed vehicle with enough room to stand up. With an inverter, you can run power tools, and small 12 volt air compressors that run from the truck's battery are available.
With a truck, you can bring bikes that you have for sale, can bring bikes back to your home shop that need extensive work, and can carry an inventory of accessories for sale. This would be something like the Fuller Brush man. These guys used to carry inventories of cleaning supplies to clients in their homes.
This business is best operated as a partnership. One partner stays home to answer the phone and act as a dispatcher. However, it could be a one-person show. You can hire an answering service, and check in at every housecall. I recently saw a fellow riding a bicycle while talking on a cellular phone. You could do that too.
To get things rolling, you can:
* Place ads in the local newspaper.
* Submit a press release to the local newspaper. This is likely to bring you far more business than an ad, and cost nothing. Writing a press release is easy. Just state who you are, what's new (that you are creating a new business), and something interesting. This business will automatically be interesting, and so the newspaper reporters are likely to come out and interview you, and put your picture in the paper. You can also get on radio and TV shows the same way.
* Plaster the town with flyers - anywhere that it is legal to do so. The flyers should have a big picture of a bicycle, so people who love bikes will be attracted to them from a distance to see what's going on. Your phone number should be copied several times at the bottom of the flyers, and they flyers should be sliced so that it is easy to tear off and keep a copy of your number. It helps if your flyers are a bright and unusual color, such as "solar yellow," so that they will stand out from all other flyers.
* Make sure to give a business card to everyone you meet. People may not call at first, but next time their bike needs service, they'll have your card. Just like flyers, a bright, unusual color is good for business cards. If the potential customer has fifty business cards in the second left drawer of his desk, and your's is the only yellow one, it will be easy to find. If the person who gets your card really doesn't care, the card may be dropped on the ground. If it is bright yellow, someone who does care will pick it up and keep it.
* On your cards or flyers you can advertise a special. For instance, the first tune up you do for a customer might be only $25, when normally they are $35. This way, your cards and flyers are not only advertisements, but coupons too.
* Another possibility is novelty advertising. There are companies such as Newton Manufacturing in Newton Iowa, who will print your name, logo and a line or two of information on just about anything from combs to pens to tape measures. These may cost a bit to give away, but they are keepers, and people will remember and talk about you.
* Put a big sign on your bike telling people to stop you and ask about your "Mobile Bike Repair Service."
* Place a free ad on the many applicable websites and newsgroups specific to your area.
* Let the local bicycle shops know what you are doing. Some may not help you, but others may help very much - sending you customers, and giving you a discount on tools, parts and accessories so you can profit by reselling them, without having to become established with wholesalers right away.
Tell a Friend About BikeWebSite
Please feel free to link your web pages to www.bikewebsite.com.
Copyright © 1991-2014, bikewebsite.com